6/10/02. We're looking forward to seeing you all Saturday evening. We're sorry we weren't able to accommodate everyone who applied, but the nine people on the waiting list will be given first preference next year.
Here is a weather link.
5/24/02. There are eight people on the waiting list.
5/15/02. Please note that today is the deadline for cancelling and receiving a refund (provided that the spot is filled from the waiting list, which should be easy.) We look forward to seeing you all soon.
4/28/02. There are currently five names on the waiting list.
4/19/02. More homework. Before Cory Dean's talk, you might want to read the following plays (or some of them):
Copenhagen by Michael Frayn
Proof by David Auburn
Arcadia by Tom Stoppard
4/15/02. We decided it would be nice to have hats for the workshop. We ordered a couple dozen and will sell them at cost, $15 each. One size fits all. (There is a brass buckle in back.) I hope we got enough. If you would like to reserve one please leave a message here. (You can bring payment in June.)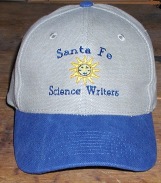 .
If I underestimated demand I will try to order more before the workshop. (The turnaround time is about a month.)
4/12/02. We've posted a new class list with instructor assignments.
4/11/02. Because of the unprecedented demand, we have decided to expand the workshop from 40 to 50 students (and still there is a short waiting list). The extra revenue is allowing us to add a nice catered buffet dinner on the opening night. (In the past people have fended for themselves then at the Plaza restaurants.) This will be in addition to the Chimayo dinner and barbecue later in the week. Of course there will be no additional cost.
You also may have noticed on the schedule that we will be joined in the first few days by Cornelia Dean, science editor of the New York Times. More on this shortly.
4/10/02. Sometime before the workshop, please read Years of Research Yield Nothing, and That's Good News for Physicists, which is available here. Then you can read an email exchange with one of the physicists who complained about the article. (I think posting it is justified since the letter was CCed to the editorial department of the Times for possible publication.) We'll discuss the issues raised here during the workshop.
A few more reading assignments will soon follow.
4/4/02. We've posted the daily schedule.
3/26/02. We've started a waiting list for this summer. Please let us know if you would like to be added. We're working on the daily schedule and will post it soon.
3/14/02. We're officially full now, though we may be able to accommodate a couple more people depending on how the housing arrangements work out. Please email us first before applying. We'd also be happy to put you on the list for 2003.
3/8/02. There are two, possibly three, more spaces.
3/4/02. There are six openings left.
2/23/02. We have now filled 30 of the 40 openings. The preliminary class list will be posted soon.
2/15/02. As of this morning, we have 23 applicants. The Plaza Resolana registrar is on vacation until the 22nd, so we won't be able to respond to the most recent applications until then.
2/8/02. We're now half full.
2/1/02. As of the end of January, we have received 15 applications -- another record.
1/14/02. Acceptance letters have been sent out to everyone whose application had arrived by this morning.
1/11/02. As of this morning we have 9 applications, the most we have ever received so early. We plan to send the first batch of acceptance letters next week.